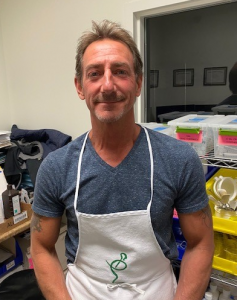 This spotlight will focus on a technician that specializes in our IV and Compounding department. Dana Snell, CPhT grew up in Brockton, M.A. Prior to his career at Guardian Pharmacy, Dana worked for 20 years at Shaw's Supermarket warehouse and also attended auto body school. In 2003, he moved to Maine and started working various jobs including auto body, warehousing and pet-food delivery.
Dana later got a job working for a nuclear pharmacy and found his passion for specialty pharmacy services. After working in nuclear pharmacy for a few years, he followed a fellow pharmacist to begin working at Waltz Pharmacy, now Guardian Pharmacy of Maine, where he started in the fulfillment department.
Dana has been with Guardian Pharmacy for 10 years and has worked in the IV and Compounding for 7 of them! Dana loves going to the beach, playing darts and pool. He even shared that he used to play in a heavy-metal band in the 80's. He especially loves his German Shepard, Bella.
Dana's dedication and attention to detail makes him one of our well-rounded and capable pharmacy technicians. He is our IV guru and, as an FYI, his least favorite compound to make is Greer's Goo.