This month's spotlight will shine on a member from our pharmacist team. Michael Cushing, RPh has been with the Guardian Pharmacy family for 11 years this July! A Gorham resident, Mike attended the Massachusetts College of Pharmacy and grew up in Westbrook. His cheery, positive attitude makes him a favorite at facilities where he is a consultant pharmacist. As a result, one might say they "spoil" him with treats.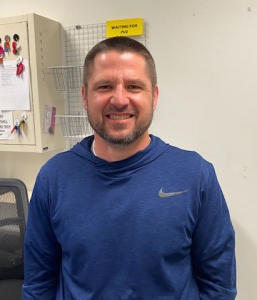 Mike is very active and enjoys running, biking, hiking and spending as much time as possible with his family. When the sun is out and the weather is warm, you can always see him on a run during his lunch break. Mike is the proud father of twin girls that are college graduates, pursuing careers in teaching and nursing.
At Guardian Pharmacy, it is crucial to patient safety and medication dispensing practices to have knowledgeable and attentive pharmacists on our team like Mike. His experience as a pharmacist is what helps put Guardian Pharmacy at the top.