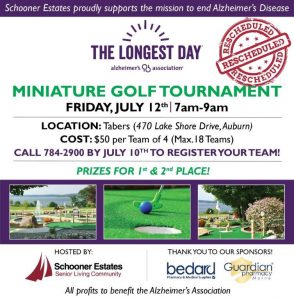 *Due to weather, this event has been rescheduled to Friday, July 12, 2019 and the registration deadline has been moved to July 10.
Guardian Pharmacy of Maine is a proud partner of Schooner Estates in Auburn, Maine to help support efforts to find a cure for Alzheimer's Disease. On Friday, July 12, Schooner Estates will be supporting a nation-wide campaign through the Alzheimer's Association called "The Longest Day." It is a way to acknowledge the difficulties of caring for people with Alzheimer's and to raise money critical for funding research into a cure.
This year there will be series of day-long events starting at 7 a.m. with a mini golf tournament at Tabor's in Auburn, Maine. Guardian Pharmacy of Maine will be sponsoring the event and will be onsite to provide information about our pharmacy service options. Please stop by our table, located at the mini golf tournament starting point to say hello!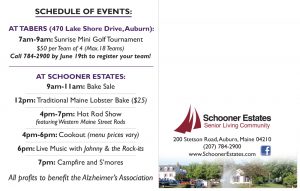 Click the above image to enlarge