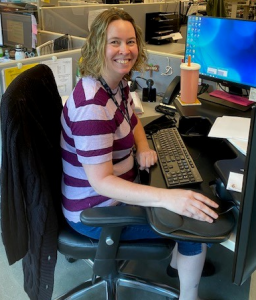 This month, we would like to highlight Dawn St. Amant! Dawn works in the billing department as a billing specialist. She has become a top claims guru and is a delight with whom to work.

In some way, Dawn has seemingly always had a hand in retail pharmacy. In fact, her first job was at Robert's Pharmacy in Lisbon Falls, where she was a sales associate. There, she quickly transitioned to the pharmacy department. After college, Dawn went down the banking path, where she flourished for 20 years! However, throughout her career, she continued to work part-time as a pharmacy technician. Once her banking journey ended, she found her way to Guardian Pharmacy of Maine. Since then, she has become an asset to the billing department. This September, she celebrated her one-year anniversary working with us!

Dawn is a proud aunt to her wonderful nieces and nephews, and just became a great-aunt! She enjoys reading and listening to music. Before the COVID-19 pandemic, Dawn attended concerts and enjoyed going out to dinner with friends. She loves watching football and rooting for her favorite team, the New England Patriots. GO P-A-T-S!

Dawn appreciates any time spent with friends and family, whether it's a planned adventure or just sitting around the dinner table, sharing stories and laughs over a yummy meal.