As you may know, regular deliveries of medications to communities are very important to residents' care. At Guardian Pharmacy of Maine, our delivery supervisor Carson Carver strategizes the best delivery route for our customers' locations. Carson started at Guardian (Waltz at the time) five years ago on February 18, 2015 as a delivery driver. Within a year, he was promoted to the assistant manager position. Toward the end of 2017, he took over as Delivery Supervisor, where he enjoys the logistical problem-solving and management aspects of his position. According to Carson, "It's like a constantly shifting puzzle."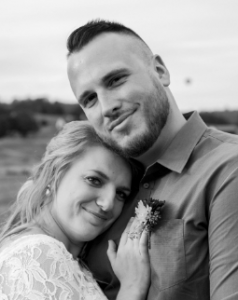 Carson has a background in law enforcement and corrections, having worked at the Androscoggin Sheriff's Office for five years prior to joining the Guardian family. Some of his hobbies include weightlifting, darts, guitar, movies and soccer. He also attends church at Eastpoint, where he is involved with the youth ministry. Most importantly, Carson makes sure he spends valuable time with friends and family, who are the true riches and blessings in his life.
In October 2019, Carson married his beautiful and passionate wife, Bailey, (pictured) who is his best friend. They were wed in Maryland, and they currently reside in Portland where she works as an ICU nurse at Maine Medical Center. Carson and Bailey recently adopted a new puppy, Belle, into their family. She is a terrier mix and a ton of fun!
After serving five years in his position at Guardian and receiving exposure to his wife's role in the medical field, Carson has developed a deep appreciation and respect for the medical professionals with whom we work. Carson said, "It's a career I never expected getting into, but quickly grew to enjoy and desire to participate in."