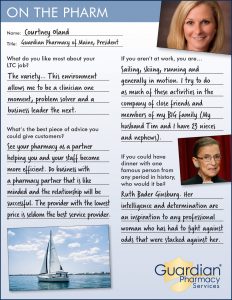 Why are you passionate about LTC pharmacy? 
Because it provides me the opportunity to do something that matters every day; the opportunity to contribute to the well-being of the patients that live in the communities we serve is an honor. Be it in a clinical role as a consultant pharmacist, assisting someone with getting their medications paid for or helping a community create policies and procedures that ensure medication safety, LTC Pharmacy allows a unique connection to the seniors we serve, their families and the community they live in. In LTC pharmacy we have the luxury of time and specialized resources that a retail pharmacy simply does not have at their disposal.
What do you like most about your LTC job?
The variety. No day is alike, and the environment is dynamic and rewarding. I really found LTC pharmacy by mistake as I expected to spend my career in a hospital pharmacy. I learned about the opportunity in LTC while on my hospital rotations. I am so grateful that I did because the decision to shift my focus to LTC pharmacy has been one of the best professional decisions I have made. This environment allows me to be a clinician one moment, problem solver and a business leader the next.
Your pharmacy's greatest accomplishment has been…
Guardian Pharmacy of Maine's (formerly Waltz LTC) roots are from humble beginnings. What began in a windowless 700 sq. ft., back room of a retail store, is now a state-of-the-art operation. This growth has taken place all while maintaining our focus on service and the people and communities we serve. Thirteen years later I am so proud of the people I have on my team (many whom have been here from the early years). It is a pleasure to see how much these people have grown personally and professionally.
Your pharmacy's culture is…
"Personal Service is Powerful Medicine." My team goes the extra mile for each other and the customer every day.
What's the best piece of advice you could give customers?
See your pharmacy as a partner helping you and your staff become more efficient. Do business with a pharmacy partner that is like minded and the relationship will be successful. The provider with the lowest price is seldom the best service provider!
If you really knew me, you'd know…
That if you work for me as a technician, I will try to convince you to go back to school! An education is something No One can ever take away. I see potential in everyone.
If you could have dinner with one famous person from any period in history, who would it be?  
Ruth Bader Ginsburg – Her intelligence and determination are an inspiration to any professional woman, or person for that matter, who has had to fight against odds that were stacked against her. She is a person who found a way around each and every obstacle that has ever been placed in her way…. all while being true to herself often in pearls and heels.
If you aren't at work, you are…
Sailing, skiing, running and generally in motion. I try to do these activities in the company of close friends and members of my BIG family (my husband Tim and I have 23 nieces and nephews).
People would be surprised to know…
That I am really an introvert masquerading as an extrovert. I call myself a "well socialized introvert." I think this trait developed out of necessity as I grew up the youngest and only girl in a colorful Irish family … I guess you could say it was a matter of survival.