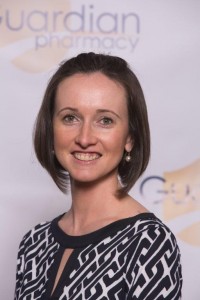 Amy Kelder Enos, PharmD, CGP, has been appointed to the position of Director of Pharmacy Operations for Waltz Long Term Care Pharmacy, a locally owned member of the Guardian Pharmacy family.   Amy is a graduate of University of Connecticut College of Pharmacy with a Bachelor's degree in Pharmacy Studies and Doctor of Pharmacy designation.
Amy was drawn to geriatrics and long term care pharmacy as a student pharmacist involved with the Connecticut chapter of the American Society of Consultant Pharmacists.  Amy moved to Maine upon completion of her studies and obtaining her pharmacy degree.
She joined Waltz Long Term Care Pharmacy in 2007. After working for Waltz as an operational pharmacist and a consultant pharmacist for three years, she became the Assistant Director of Pharmacy, assisting senior management with operational workflow management and overseeing the sterile and non-sterile compounding department. In 2012, Amy became a Certified Geriatric Pharmacist (CGP) to better serve Waltz's primary patient population.  Amy also served five years as a voting member on the MaineCare (Medicaid) Drug Utilization Review committee.
Waltz Long Term Care Pharmacy, located in Brunswick, ME, is a closed-door pharmacy, specializing in providing medications to skilled nursing facilities, assisted living facilities and group home settings.  For more information about the services provided by Waltz Long Term Care Pharmacy, please call (207) 373-9077.